Coinmatics for Traders
Our copy trading platform is perfect for traders who want to make additional profits from their crypto trading expertise. We have offers for traders that already have a strong community and also for those who would like to extend it.
Strategies on Coinmatics
How It Works
Our service is built to provide the vast number of people (investors) with the possibility to copy trades of experienced traders. On Coinmatics this process is handled through strategies.A strategy is an entity that contains information about trading pairs, history, profitability, risk level, trading frequency of particular coins, etc. Traders create strategies by connecting their exchange account API key to Coinmatics. Once it's done, the strategy becomes accessible for investors to copy at fixed price set by the trader.Copying trades can be done automatically via Coinmatics. This way, the trades copied will be executed automatically on the investor's exchange account. In contrast to automatic copy trading, investors can choose to follow a strategy by receiving Telegram notifications about the trades and then execute them manually on the exchange.
Choose a Strategy Access Type
Public
Suitable for traders who want to increase their audience by attracting the users from our platform.This is the most common strategy type on Coinmatics. The strategy will be displayed on the list of all strategies according to their rating and progress, will be visible to all users and available for subscription without restrictions.This type is available to all traders by default from the interface.Learn how to create a public strategy
Hidden
For traders who don't want to draw attention to their strategy.Hidden strategies are not displayed on the list of strategies to all users. They are available by a direct link only.This safeguards your strategy so that only you choose who can access and follow your trading. To subscribe they need to receive a link from you. Coinmatics team does not share the link to the hidden strategies.Request a hidden strategy creation
Trusted
Trusted type is suitable for traders who want to manage copy trading for their audience. Traders need to have access to the investors' API keys or to their funds.In this case, a trader creates a strategy, connects API keys through their account to the strategy and oversees copy trading. Creation of a trusted strategy is paid according to the number of API keys to be connected.
White Label
White label solution allows traders to promote their own copy trading infrastructure while keeping full control of their brand identity.We provide customizable account setups with your preferred designs and domains. In addition to this, we can offer customizable billing to suit your payment needs for the subscription. Discussed individually according to the request.Request a white label solution
Integrations
Supported Exchanges
Spot, USDⓈ-M, COIN-M
Spot, Futures
Spot, USDT Perpetual, Inverse Perpetual
Finance
How Traders Earn on Coinmatics
On Coinmatics, traders earn from copy trading and signals subscriptions to their strategies. A trader is able to set the subscription fee of any amount or create a free of charge strategy. Coinmatics takes a variable rate commission on a trader's profit made on subscriptions.Traders with their community can earn additional funds via our referral program. You will get a fixed sum for each referral. When a certain number of active referrals is achieved, you will get a share of Coinmatics income from these referrals.
Easy to Start
As Simple as ABC
Start earning just in 3 simple steps
1
Connect your exchange account API key
2
Verify your account and create a strategy
3
Trade on the exchange and get profits
Solutions for Traders
Tools & Products
For those who treat trading as a primary activity
Promo Codes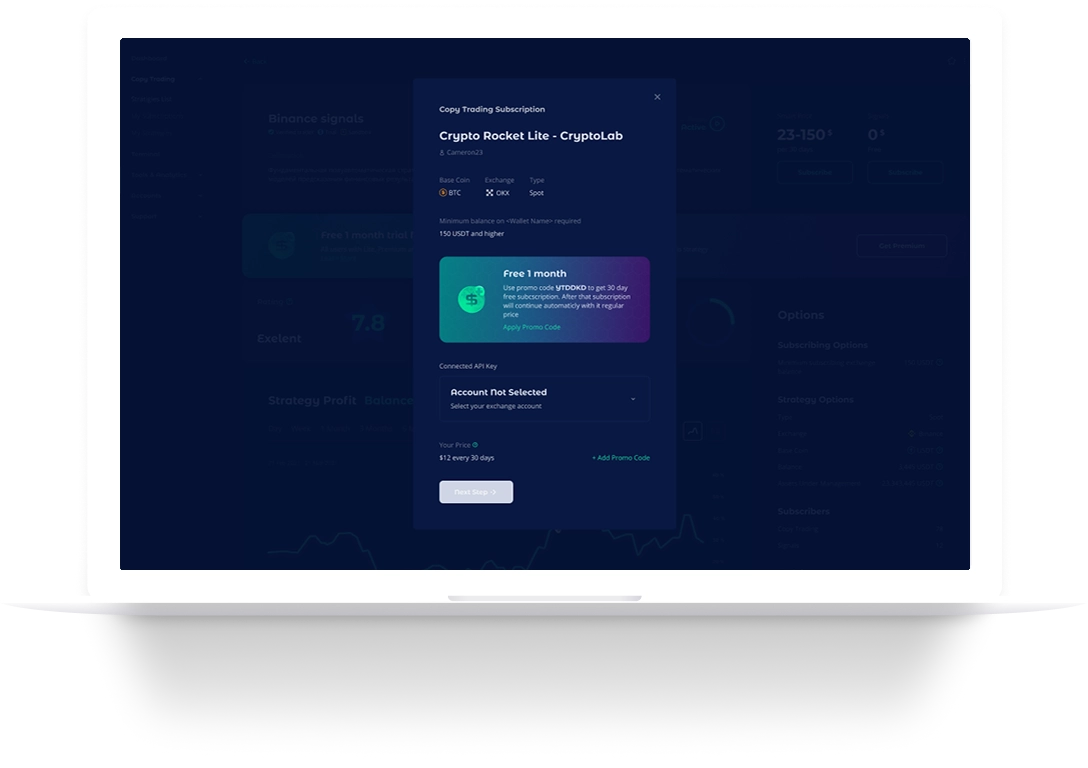 Attract new subscribers by letting them try your strategy at a reduced price.
Ticker Alerts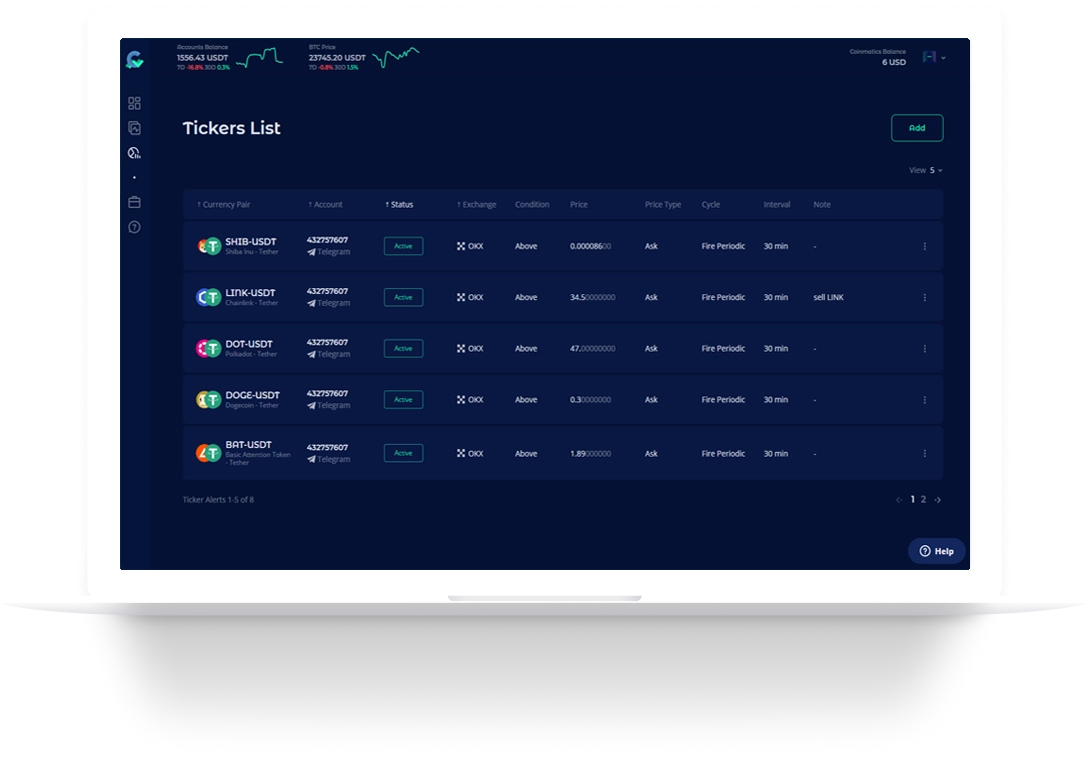 Set up ticker alerts with custom parameters to receive immediate Telegram notifications when it will be triggered.
Crypto Arbitrage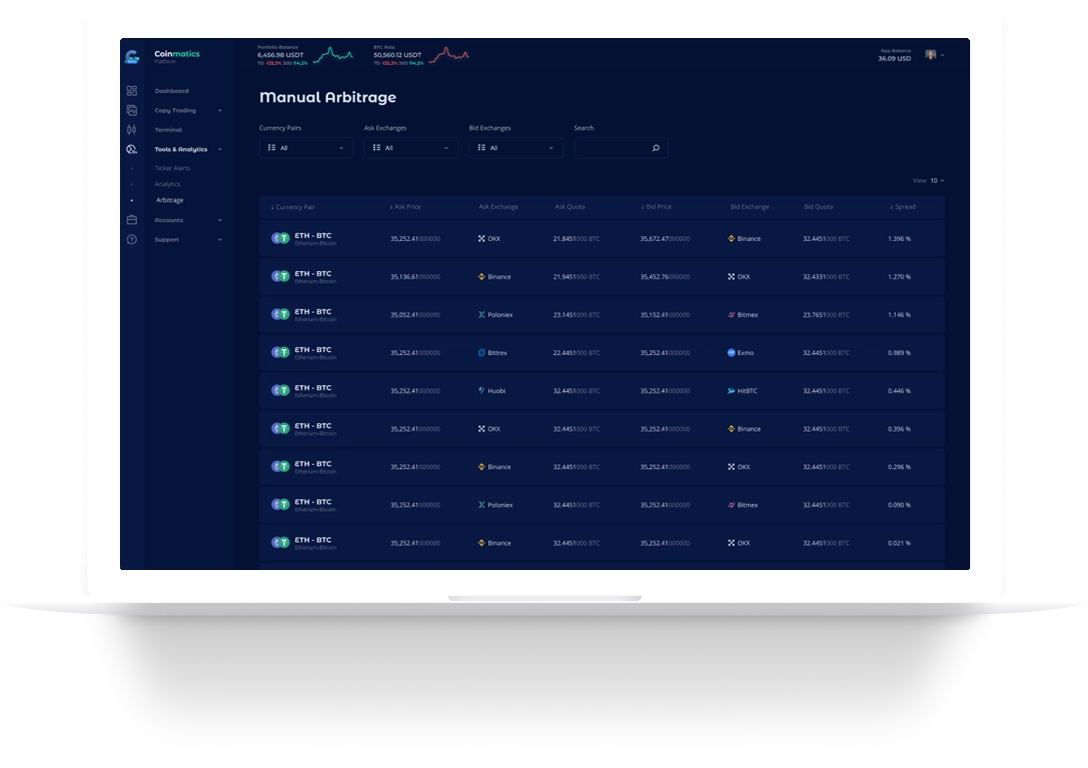 Get information about arbitrage trading from various exchanges to find deals with the highest spread. Manual mode and Telegram signals are available.
Analytics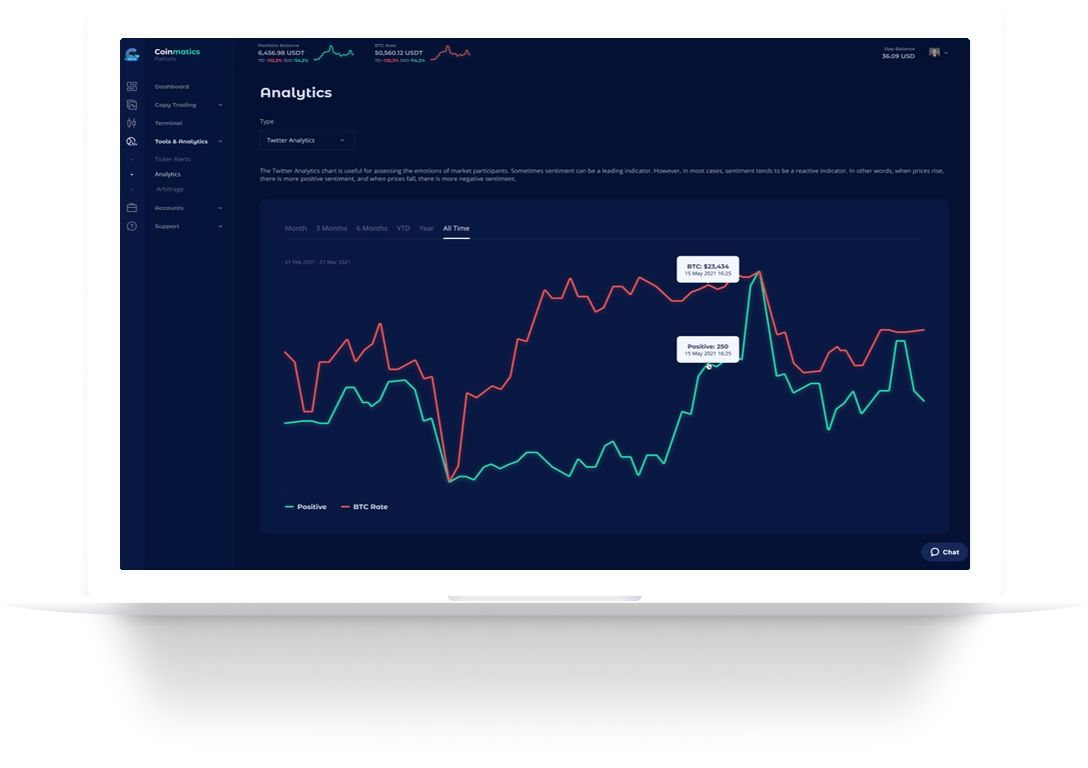 Look at the crypto market from different angles using our analytical dashboards: Twitter Analytics, Fear and Greed Index, BTC Social Volume, and more.
Smart Terminal
Trade on different exchanges from a single Coinmatics interface. Leave us your contact info and we'll invite you to Smart Terminal beta testing.
Portfolio Alignment by Trader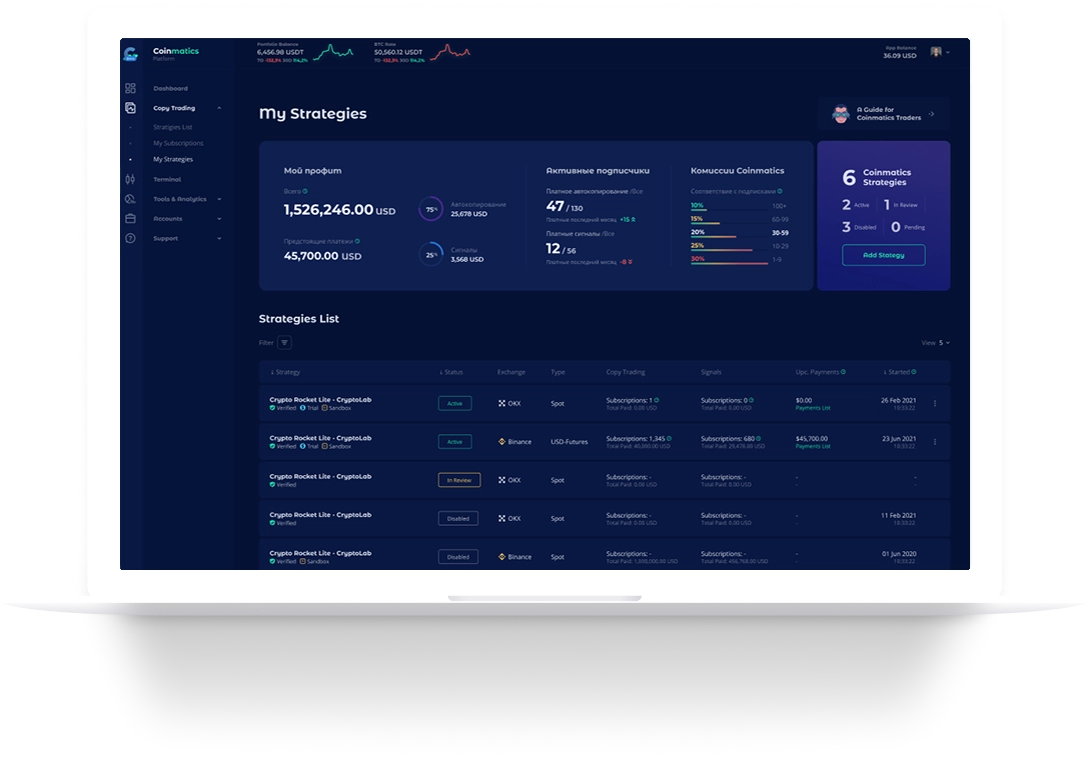 Traders can trigger alignment of their subscribers' portfolios. Apply in case your portfolio changes to provide good copy trading experience for your subscribers.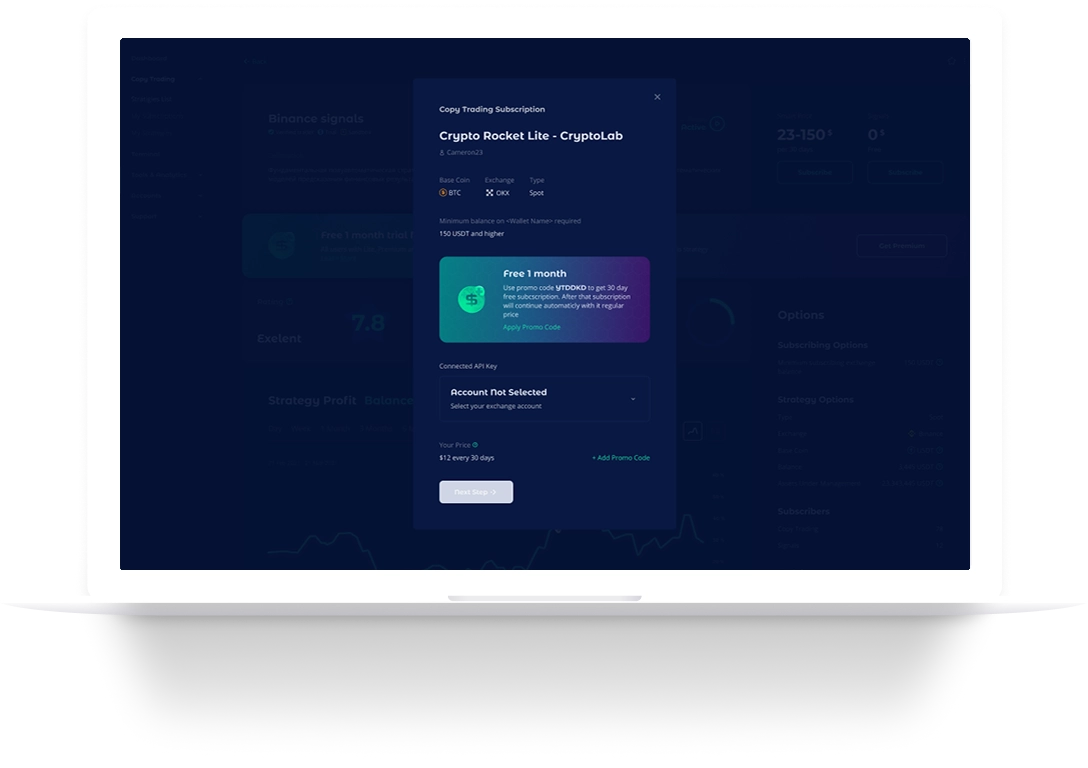 Service Information
Frequently Asked Questions
How can I use Coinmatics as a trader?
For this, you only need to create and verify an account on Coinmatics, link your exchange account to the platform and add a strategy. You will find a more detailed guide in this article.
Is it safe to connect an API key to Coinmatics?
Yes, it is. Technically, there is no way we (or any other Coinmatics user) could have access to your exchange account funds.We never ask to enable funds withdrawal. Moreover, if you accidentally have this API key setting enabled – we simply will not link your exchange account to Coinmatics.
When will my strategy start bringing the profits?
Traders earn from subscriptions to their strategies. Once a strategy is created and passes preliminary moderation, it becomes available for others to subscribe. The earnings will be added to your Coinmatics balance.In terms of time, you can start getting profits within 1-2 months after a strategy creation.
How can I learn more about how to use Coinmatics as a trader?
You'll find a lot of useful information for traders in this knowledge base section.
How can my audience start copying my strategy on Coinmatics?
You can ask your audience to create accounts on Coinmatics and subscribe to your strategy. In this case, you can additionally benefit from our referral program.Another option is creating a hidden or a trusted strategy. For these options, please contact us at [email protected].